S24D1 Mast Section For Tower Crane Masts
S24D1 Mast Section For Tower Crane Masts
Buenos Aires Tower crane, Córdoba Tower crane,
Rosario Tower crane, Laplata Tower crane,
Mar del Plata Tower crane, San Miguel de Tucuman Tower crane,
Products Specification
Type , Model: S24D1 Mast Section For Tower Crane Masts
Size: 1.2mx1.2mx3m
Materials: Q345B
Within: Pins, Ladder, Platform
Process: Blasting derusting,
Painting: Under painting , Middle painting, Surface painting.
Our factory produce and supply almost all famous brand tower crane :Mast section, Anchor Frame, Fixing angle ,Adaptor and so on as good quality and price.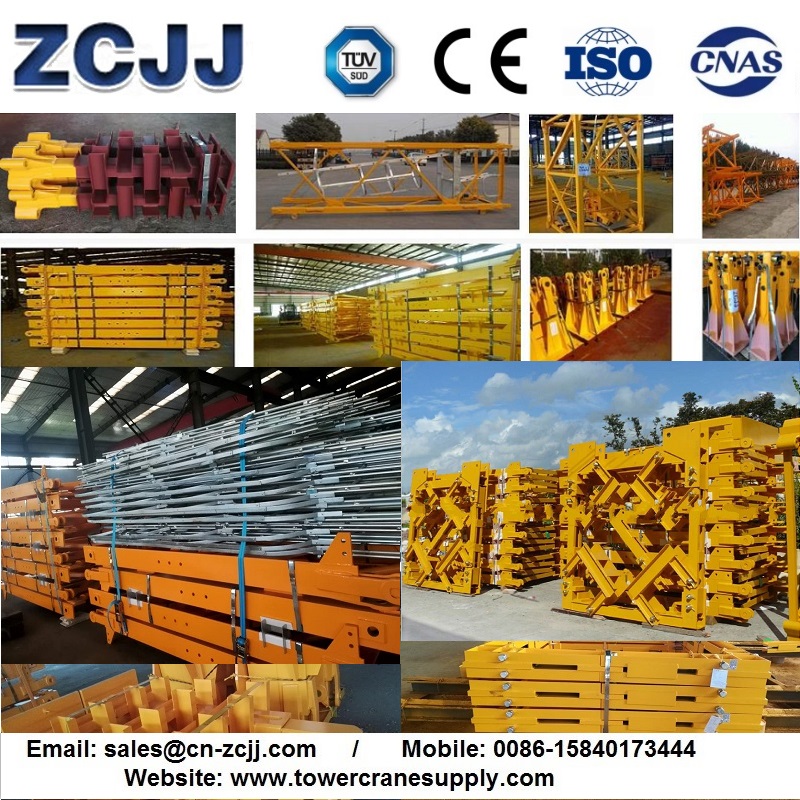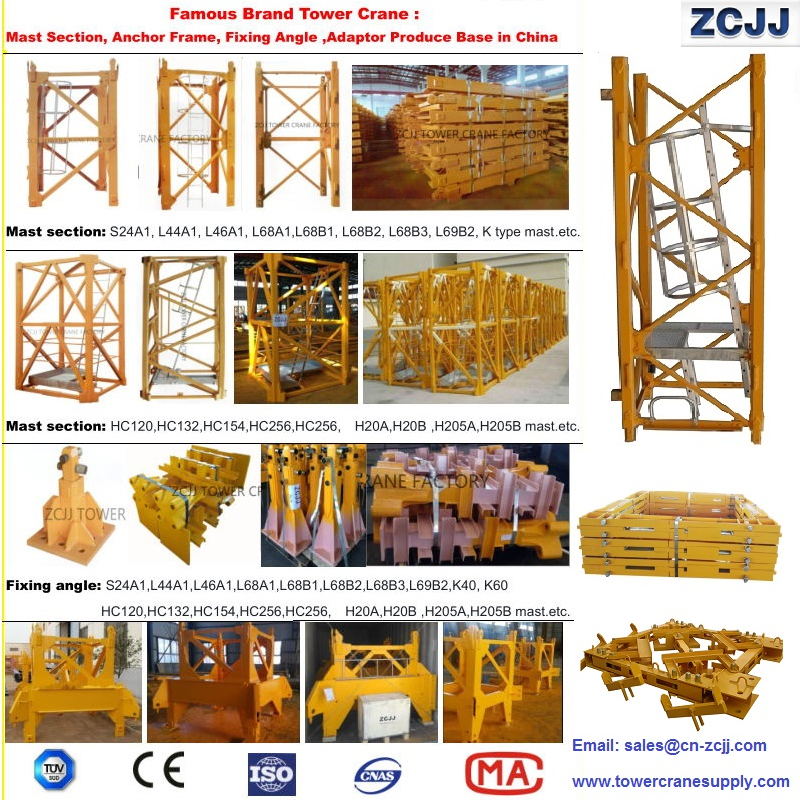 S24D1 Mast Section For Tower Crane Masts
Tower Crane Knowledge sharing:
rief analysis of the repair, maintenance and testing of metal structural parts of tower crane
The repair and maintenance of metal structural parts of tower crane strictly follows the scrap standard of steel structural parts of crane. The metal fatigue strength, weld crack, structural deformation, damage and other conditions should be checked for the structure parts under the main stress.
The key welding seam of the structure parts under the main stress and the base material in the welding heat affected area should be checked. If any abnormality is found, it should be dealt with.
S24D1 Mast Section For Tower Crane Masts
Inspection of metal structure of tower crane
The inspection of structural parts shall be carried out according to the following procedures.
Daily inspection the tower crane should be inspected every 80 hours. When changing shifts, the tower crane driver should check the fastening of bolts at all connecting parts, and tighten them in time if there is any looseness.
In case of abnormal sound, wrong operation or malfunction of safety device of tower crane, it shall be inspected and recorded.
When a project is completed and the tower crane is dismantled, it shall be inspected in detail and recorded by engineering technicians and professional maintenance personnel.
Maintenance during transportation
In the process of transportation, we should try our best to prevent the structural parts from deformation and collision damage. Spray paint every six months to one year. Before painting, remove all rust, grease and other dirt from the metal surface.
Safety acceptance of tower crane
S24D1 Mast Section For Tower Crane Masts
Safety inspection and acceptance of tower cranes. Before the installation of the tower crane, it is necessary to make accurate and reasonable positioning according to the plan and elevation map provided by the project department.
It is not only convenient to install, but also easy to disassemble. The distance between walls should be reasonable. For the installation of multiple tower cranes, it is necessary to minimize interference with another tower crane within the rotating radius of the tower crane.
According to the geological report provided by the project department, it is necessary to determine whether the ground endurance of the installation location of the tower crane meets the requirements of the specification. If it does not meet the requirements。
it is necessary to work out feasible plans together with the technical department of the company, such as pile reinforcement treatment or foundation enlargement, and provide calculation basis.
S24D1 Mast Section For Tower Crane Masts
Then provide the project department with the basic drawing of the tower crane and construct according to the drawing.
Tower crane foundation
Tower crane foundation steel and concrete to have a pledge policy, concrete test block report, urgent check list.
Reinforcement according to the basic drawing shall not be cut at will. It shall be valid only after being signed by the supervision department.
After the installation of the tower crane, the settlement should be observed, and the measurement record should be made and archived, so as to find problems and correct them in time, and ensure that the tower crane's perpendicularity is within 3‰.
Tower crane power system
Should be equipped with tower crane special distribution box, in line with a machine a gate a leakage provisions.
Main circuit and control circuit of the insulation resistance should be greater than 0.5 M Ω, should be reliable grounding protection, resistance value should be no greater than 4 Ω, should have reliable lightning protection grounding
The control circuit should be equipped with emergency stop starting, over current, loss of pressure, phase break, phase fault protector.
The distribution box of tower crane shall be provided with rainproof device. Anti-collision signal lights shall be installed on the top, boom ends and balance arms of towers
Warning devices such as horn or electric bell should be installed in the cab.